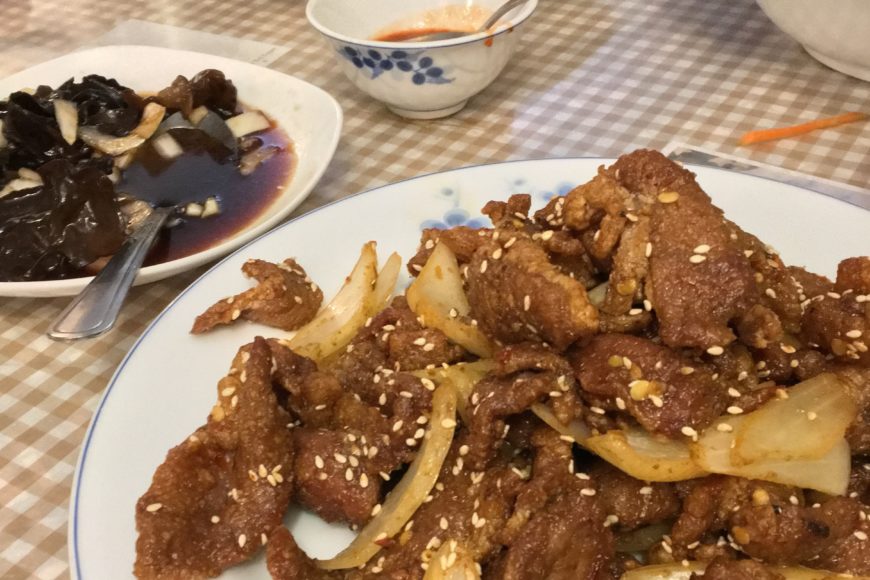 Harmony Restaurant
Address: 769 Gladstone Ave, Ottawa
Hours: 11am – 10:30pm (Mon, Wed-Sun); closed Tue
Website: http://tdrharmony.com/
While looking for a restaurant to ring in the Chinese New Year (re. gorge), I came across Harmony Restaurant and its northern-Chinese fare in my internet research. With a solid reputation, and close proximity to our apartment, it was an easy choice to go here with my wife and some of her classmates to ring in the Year of the Pig.
Located on Gladstone, just south of Chinatown proper, Harmony's weather-worn sign and time-worn interior speak to its longevity. A collage of pictures – their own food, and stock photos of flowers – above our table were a signal that the latest trendy interior design firm did not work on Harmony.
The menu is broken up into three main groups – the northern-Chinese focused house specials, other traditional Chinese food (mainly Sichuan and Cantonese), and good ol' Canadian Chinese food for the….less adventurous palates.
To start things off, we ordered the hot and sour soup (large, $14.55) and black mushrooms in vinegar ($5.95). Of the house specials, we got the lamb with cumin ($14.55) and hot and dry chicken ($13.55). To round out the meal, we also ordered the mapo tofu ($10.55), bok choy and mushrooms ($10.55), and an order of General Tao's tofu ($10.95) for the vegetarian among us. Naturally, there was steamed rice as well.
Our hefty bowl of hot and sour soup came quickly. The bright, vinegary broth lived up to its name, while shredded wood ear mushrooms and julienned carrot added some varied texture and flavour.
The black mushroom and vinegar dish was as simple as advertised, but delicious nonetheless. The generous pile of wood ear mushrooms was topped with diced white onion and a rice vinegar-based sauce. I'm not a huge fan of the funkier Chinese mushrooms, but these wood ears didn't have any of that funk, with a pleasant flavour, and tender texture that was complemented by the bursts of tanginess from the onion and vinegar.
Our mains started arriving in a steady stream at this point. The lamb with cumin was my favourite dish of the night, and a crowd pleaser around the whole table (other than the vegetarian, of course). The thin strips of stir-fried meat were impressively tender, and just as cumin-y as you'd expect. Strips of onion and a smattering of sesame seeds added further depth of flavour and crunch.
Up next was the mapo tofu. The chunks of silken tofu were smooth and coated in the almost-too-mild chile sauce, with some added heartiness from the ground pork. There wasn't much Sichuan peppercorn to be noticed either.
The lone vegetable dish of our meal, the bok choy and mushrooms, had higher funk levels than the other mushroom dish, but it was balanced out by the freshness of the bok choy, and the vinegar and soy sauce.
I wasn't sure what to expect with the General Tao's tofu. Heavily breaded tofu? Bright red, cloying sauce? Luckily, neither were the case. Crispy, fried hunks of medium-firmness tofu were a pleasant meat substitute, while the sauce was lightly spicy and not too sweet.
After all of this food, we had literally forgotten about the hot and dry chicken, which triggered two responses upon its arrival: "Oh yeahhh, we ordered that!" and "I'm not sure I have room for much more". Luckily the chicken was easy to gobble down. It's barely-there breading made for crispy morsels of tender and juicy meat, and it had a hint of heat and Sichuan peppercorn's magical numbing powers.
We went through a lot of rice between six hungry adults, and while it was promptly replenished a few times over the meal, I found it to be a bit on the dry side and overly clumpy. A pretty small blemish on an otherwise fantastic meal.
Service was friendly and helpful, with lots of tea and rice top-ups.
If the Year of the Pig is going to be anything like our meal at Harmony, I'm looking forward to 4717.