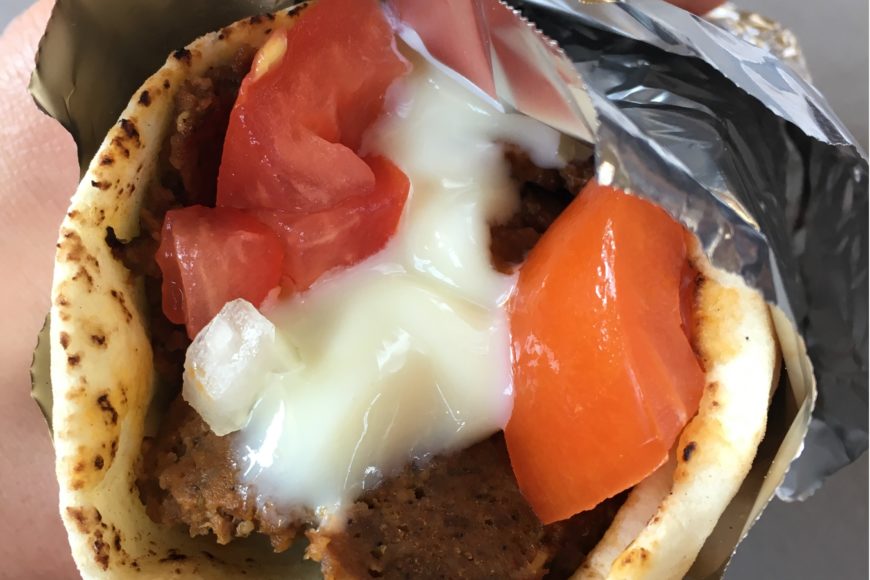 Ottawa Donair Quest – Down East Foods
Address: 613 Flea Market at the Aberdeen Pavilion
Hours: 10am – 4pm, check the 613 Flea Market page for the next monthly event
Website: Instagram only
Ninety-nine percent of the time, scrolling through the posts from the several hundred restaurants, foodies, and food-related social media accounts which I follow is nothing but a huge time sink. On rare occasions though, I glean a piece of knowledge that I would not have found out about otherwise, and it leads to a wonderful discovery. Down East Foods is one of these finds.
Once a month at the Aberdeen Pavilion, the rose amongst the concrete thorns of Lansdowne, the 613 Flea Market is held. There's an eclectic mix of vendors – individuals trying to whittle down their hoarded wares, specialty sellers re-selling second-hand finds, and most importantly to this blog and my belly, people selling prepared food.
The proprietor of Down East Foods is a New Brunswick ex-pat, and we chatted about Ottawa donairs and farmers markets while my donair ($12) was heated through on an electric griddle. The menu also has a few other east coast comfort foods like seafood chowder and biscuits, and less regionally-specific foods like mac and cheese, and candied bacon.
Since the owner is from New Brunswick, the donair comes with lettuce (which I axed), but is otherwise a faithful representation of Halifax's official food. A Lebanese pita, which was also warmed through on the flat top, encased a generous portion of donair meat, and diced tomato and onion. All of this was appropriately wrapped in tin foil, for extra authenticity points.
I'm going to forego the dramatic tension here and say that this donair is good. Very, very good. The meat is cut from homemade loaves, so it doesn't have the same texture as meat cut from a spit, but the flavour was spot on – earthy and herbal, with a spicy punch in line with some of the spicier donairs in Halifax.
The donair sauce – a component nearly as important as the meat – was also excellently executed. The thick sauce had a great balance of the sweet and tangy flavours that make a good donair sauce.
Down East Foods is easily one of the best, proper, east coast-style donairs in Ottawa, with better flavours, execution and portion size than the so-called donairs that you find at shawarma places. It's a shame that they're currently only available during Lansdowne flea markets, but until they expand their presence, I have something to look forward to each month.