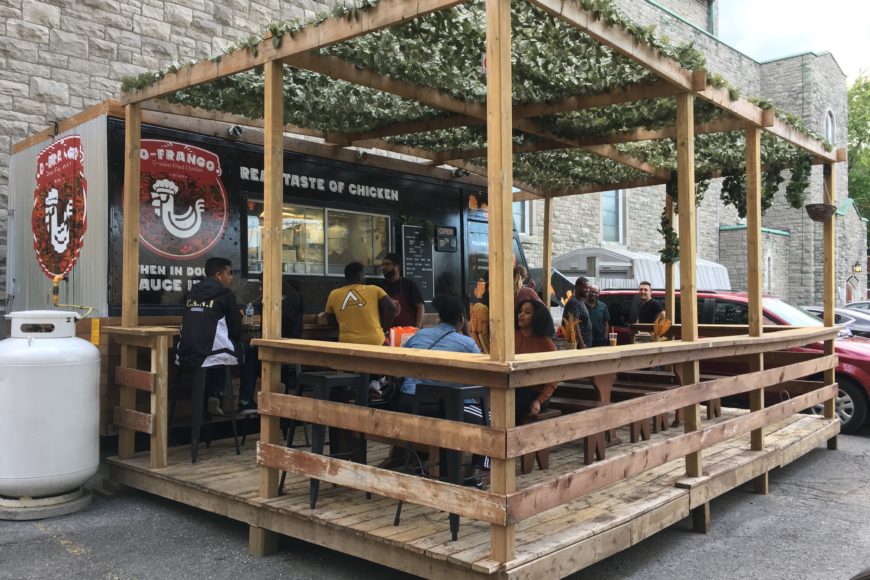 O-Frango
Address: 151 Laurier Ave, Ottawa (in behind in the parking lot)
Hours: 12 – 7pm (Mon – Fri); 12 – 4pm (Sat); closed Sundays
Website: Facebook only
After a day of doing some local sightseeing with my wife, I wanted to use the opportunity of being in the Byward Market to make a small detour to check out one of the city's newest food trucks, O-Frango.
The lot off Laurier used to be stomping grounds of Nacho Cartel, and O-Frango seems to have purchased both their truck and the cute patio and trellis.
O-Frango was doing steady business when we arrived in the early evening on the Friday of Labour Day weekend. The truck is in the heart of University of Ottawa territory, so there were lots of students and their parents ferrying loads of belongings into dorms and apartments of questionable quality. Looking at these kids, it struck me that I'm now twice the age of most of them. Twice!!
Luckily, my metabolism is still running strong, and we had also worked up an appetite from our touristy adventuring. O-Frango's menu is laser focused: their frango fries, in small or large, ten different sauces, and the option to add extra chicken or fries. That's it.
Since it isn't particularly well explained on their social media or the truck itself, frango fries are French fries which are topped with pieces of a cutlet of deep-fried chicken, topped with a cheese sauce and your choice of the other sauces they have on hand.
With our aforementioned appetites, we went for the large size ($10.95), with chipotle sauce on top, and garlic on the side.
After a wait that was long enough to signify that our food wasn't just coming out of warming trays, but certainly wasn't a long wait, we settled in on the patio to chow down and take in the people watching.
The hearty portion was doused in a cheese sauce and the smoky chipotle sauce I had added on. Despite being a veritable hot mess, the hunks of chicken were still crisp, and had just a hint of heat, and pops of flavour from a seasoning of herbs. I always prefer dark meat, but whoever is manning the fryers at O-Frango knows their stuff, because these breast cutlets were still wonderfully moist.
Those same fryer skillz extended to the fries, as the thin shoestrings held up impressively well to the deluge of sauces.
I enjoyed the warmth of the chipotle sauce, while the garlic sauce was closer to an aioli than toum in terms of garlicky bite.
O-Frango is serving up some fantastic eats that are easy on the wallet, and while it's sure to be a hit with the U of O crowd, it's destination worthy on its own.