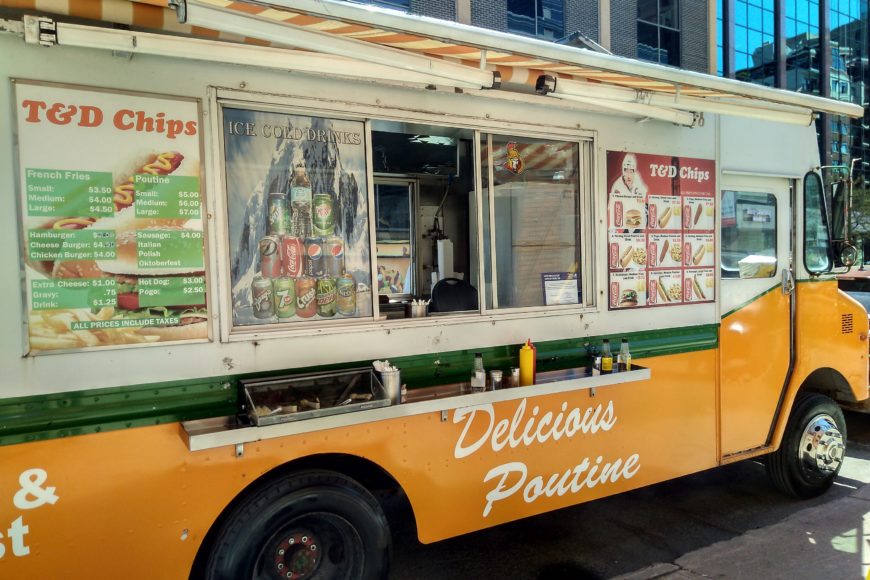 T&D Chips
Address: Lisgar at Bank
Hours: Lunch-ish on weekdays for sure. Otherwise…*shrug emoji*
Website: Ha! Noooo
Green factor: Styrofoam containers, plastic utensils; No garbage or recycling on site
As I continue to work my way through the chip wagons and food trucks of Ottawa, I stopped by T&D Chips for lunch in warmer times earlier this year. This orange and white truck has been a fixture at Lisgar and Bank for a while, and I wanted to see what their artery-thickening fare was like.
If you've ever been to a chip wagon, their menu will have no surprises for you – burgers, hotdogs and sausages, pogos, and of course fries and poutines. I went with what has become my measuring stick for chip wagons – a cheeseburger ($4.50), small poutine ($5), and a bottle of water ($1.25). Getting the hamburger and drink combo saves you…a quarter.
My food was ready fairly quickly since I was there after office workers had slinked back to their cubicles. They give the burger to you open-faced so that you can top it to your heart's desire; I chose the burger classics of diced onions, pickles, and mustard. #TeamNoKetchup here!
There wasn't much in the way of seating nearby, so I took a stroll down Lisgar and set up shop on a low wall to indulge in my calorie-heavy lunch.
The burger was obviously a from-frozen patty, so neither the texture nor flavour was any good, even with a decent sear on it. On the upside of Burger Fundamentals, the cheese was melted on the patty, and the sesame seed bun was nicely toasted. It's become evident to me after this and other burger experiences that it's shockingly hard to find a first-class – or even OK- burger at a chip wagon in Ottawa!
Luckily, the poutine stacked up better than the burger. Moderately thick, golden brown fries were layered with a mild, not-too-salty gravy, and cheese curds. The curds were small, and as such it was hard to detect much of a squeak before they melted, but they were plentiful.
With T&D Chips, you'll want to stick to variations of their namesake fried potatoes. Leave the burgers for desperate downtown workers and poor schmucks like me.