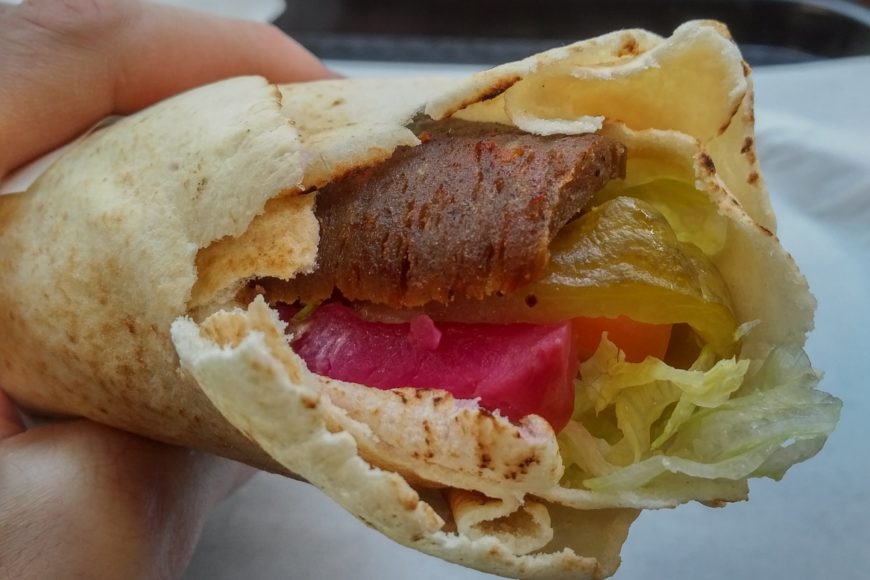 Ottawa Donair Quest: Shawarma Express
Address: 119 Slater St, Ottawa
Hours: 10:30am – 10pm (Mon – Fri); 11am – 10pm (Sat – Sun)
Website: http://shawex.ca/
When I was wanting something quick and easy for lunch when meeting my wife downtown, I decided to see how Shawarma Express' donair was.
They're one of the few donair purveyors who specify having a Halifax-style donair, and the menu even describes the ingredients as the expected tomato, onions and donair sauce, although garlic sauce was tacked on as well. Still, not having lettuce or pickles seemed like good omens for the quality of their donairs!
I placed our order at the counter and strolled down the line to settle up while our food was put together. The donair meat was hand-carved from a spit, but was not finished on a grill afterward, so sadly no crispy edges were to be had.
Unwrapping one end of the paper around my donair, I saw an unfortunate colour poking out from inside the pita…green. It seems that despite their menu, I received shawarma toppings of lettuce and pickles. Getting vegetables that (a) shouldn't be on any donair, and (b) weren't supposed to be on this donair, was a big letdown. Bites that were all lettuce and pickles were like cold, crunchy mouthfuls of disappointment. And speaking of cold, the pita wasn't warmed on a flattop and further contributed to my donair distress.
This was even more disappointing since the main donair components, the meat and sauce, were actually pretty decent. The meat, although thicker cut and lacking crispy edges, had a better texture than most rubbery Ottawa donairs, and the flavour profile was fairly accurate, albeit on the milder side of the spice spectrum. The donair sauce seemed spot on.
At $8.65, the large donair's price point is more in line with a regular/medium donair in Halifax, but you also get a lot more meat back east. My wife's shawarma platter, with garlic potatoes, pilaf, fattoush, hummus and pita, was several dollars more at $13.25, but probably the better deal. It wasn't mind-blowing, but it was enough for a big lunch with some leftovers, and she described it as "above average" for Ottawa.
The trouble with expectations is that when they aren't met, you have further to fall. If Shawarma Express is going to advertise a Halifax-style donair, their staff has to know not to put shawarma toppings on it. Other refinements could be made for both authenticity and quality. If you need your donair fix, you'll do…OK…as long as you keep an eye on the toppings during the prep.