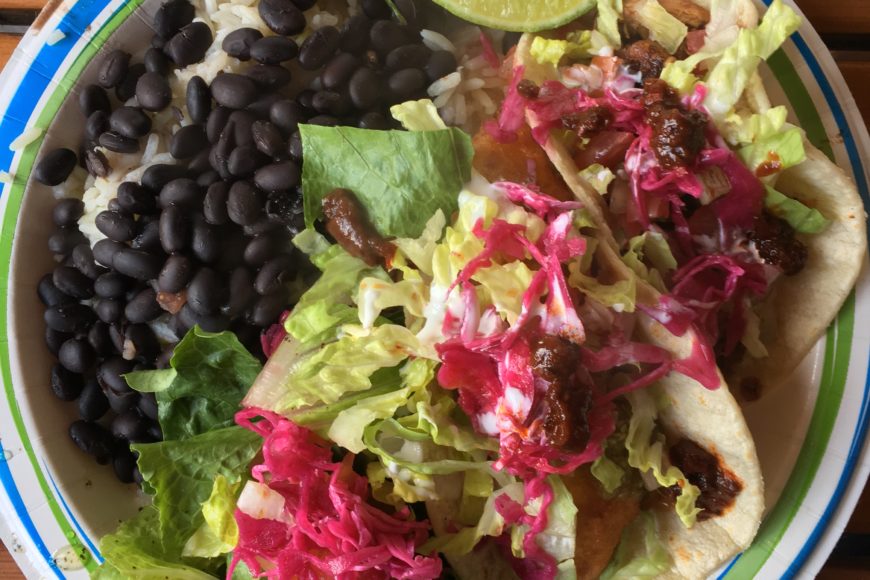 Tacolot
Address: 999 Wellington St W, Ottawa
Hours: 12pm – 8pm (Tue – Sun); closed Mondays
Website: Facebook only
After trying and failing to hit up Bread By Us for their weekly donair lunch special (which I eventually tried successfully), I went to the nearby Tacolot for some taco consolation.
I've been by the Tacolot shack several times but have never actually tried them out. They recently erected an enclosure that allows them to stay open year-round and provides shelter from the elements. Well, from precipitation and the worst of the cold anyway – with the aid of a space heater or two.
Their menu befits the compact space, and I gravitated toward their namesake dish. The two-taco platter comes with rice and beans, and a salad ($14). I chose their pork and fish for my proteins.
I moseyed over to the heated side of the hut while I waited for my food, all the while trying not to lose consciousness from rolling my eyes at the painful conversations of some tech industry bros waiting for their takeout.
Once my order was up, I was the lone customer remaining, as everyone else had shuffled back to the warmth of their offices. I gave my tacos a dab of a house-made salsa and hunkered down over my steaming plate of food.
The tacos had a Tex-Mex lean, with a hefty dose of shredded lettuce on top. With the added colour of some (pickled?) red cabbage, they were quite colourful. The shredded pork was tender, moist, and deeply rich and flavourful, with an added hit of smokiness from the salsa roja.
I was much less impressed with the fish. A lone piece of battered and fried fish, it had a soggy fish-batter interface, and the fish itself was more mushy than flaky and firm. This is why, as an east coaster, I'm hesitant to buy fish in this part of the country.
The tortillas were at least partially corn, had a good flavour and a little bit of browning from the grill.
While the rice and beans were pretty basic, as neither were heavily spiced or sauced at all, I found both to be cooked to perfection and served as a hearty filler on a cold fall day.
The salad was more of the taco toppings – lettuce, cabbage, tomato and onion – and felt a bit repetitive with the hefty dose of greenery on the tacos.
While it certainly wasn't the donair I had been targeting, Tacolot was a decent replacement. If they lose the lettuce, and up their fish game to be on par with their pork and salsas, they'll easily be in the upper echelons of tacos in Ottawa.