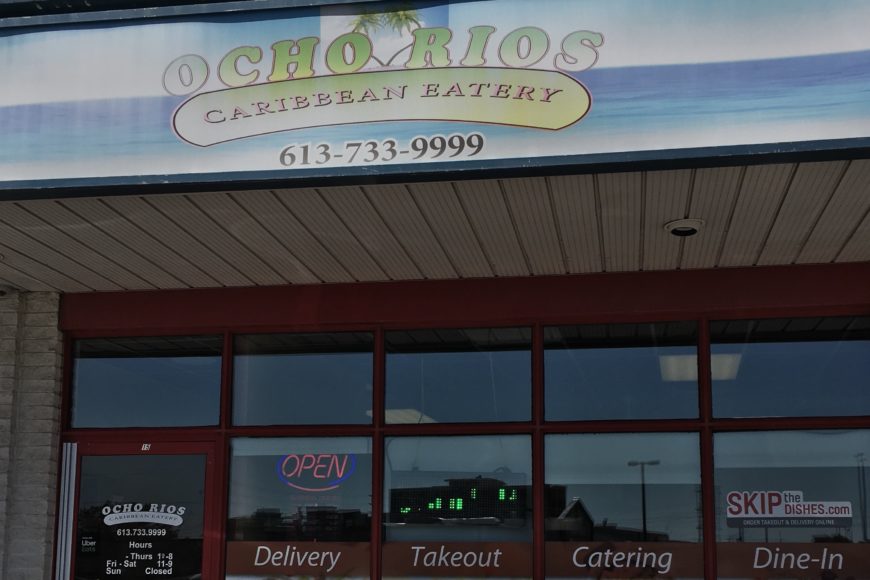 Ochos Rios
Address: 1800 Bank St, Unit #15, Ottawa
Hours: 12pm – 8pm (Tue – Thu); 11am – 9pm (Fri – Sat); closed Sunday – Monday
Website: https://www.ochorioscaribbean.com
While heading to Billings Bridge, I made a side excursion to Ochos Rios, a small, Caribbean restaurant located in a strip mall near Bank and Walkley.
I arrived in the early afternoon, and they were still doing a steady stream of take-out and Uber Eats/Skip the Dishes orders at that time. Ochos Rios isn't just for take-out though, with a handful of tables in their clean and cozy dining area.
Ordering is done at the counter, which has large menu boards above it. The offerings rotate daily, with a mix of dishes that are quite familiar to me (jerk chicken, curried meats, patties) and those I haven't yet ventured to try (ackee and codfish, callaloo). Since I hadn't been to Ochos Rios before, I went for a combo plate of jerk chicken and ox tail ($16), to get that baseline read on their food. The large size is nearly twice the size of the small, so the deal-lover in me paid the extra two bucks to gorge.
They have a variety of drinks to choose from, and I've been on a mango kick lately, so I got mango juice to help balance out any of the heat that was to come.
I wasn't asked whether I was eating in or taking out, and I probably should have clarified that, as I ended up with a Styrofoam container for my food. My bad, environment.
My 8×8 container was jam-packed. A hefty bottom layer of rice and beans supported three jerk chicken thighs, several pieces of ox tail, fried plantains, and steamed veggies. I instantly new I wasn't going to finish all of this in one sitting, and a take-out container would have been used anyway.
The chicken was incredibly tender, and the skin had a great char from the grill. Jerk chicken is known for packing a punch with its spice, but Ochos Rios seems to go the choose-your-own-spice-adventure route, as the meat was fairly mild and they provide hot sauce bottles at the tables.
Ox tail needs to be cooked low and slow for a long time to break down all those tough muscle fibres and connective tissues to ensure that you don't injure your jaw why trying to chew. Ochos' isn't quite where it should be, with a lingering bit of toughness, although the semi-sweet sauce on the ox tail was fantastic, and added a lot to the rice and beans that soaked it all up.
The rice and beans themselves were tender and deftly cooked, with a mild earthiness to them. Also, there was so, so much.
The fried plantains were lightly glazed, and with the simple mix of steamed cabbage and carrots, tipped the scales ever so slightly away from my meal being pure carbs and meat.
Although limited to counter service, the staff was very friendly, and I got an offer of water mid-way through my meal.
I put in a good effort, but I didn't want to be a useless, food-filled blob for the rest of the afternoon, so I took just under half of the rice and meats home with me.
Ochos Rios could up their game with a few small tweaks to really elevate their classic Caribbean cuisine to new heights, but until then, you won't go wrong with their affordable and flavourful food.