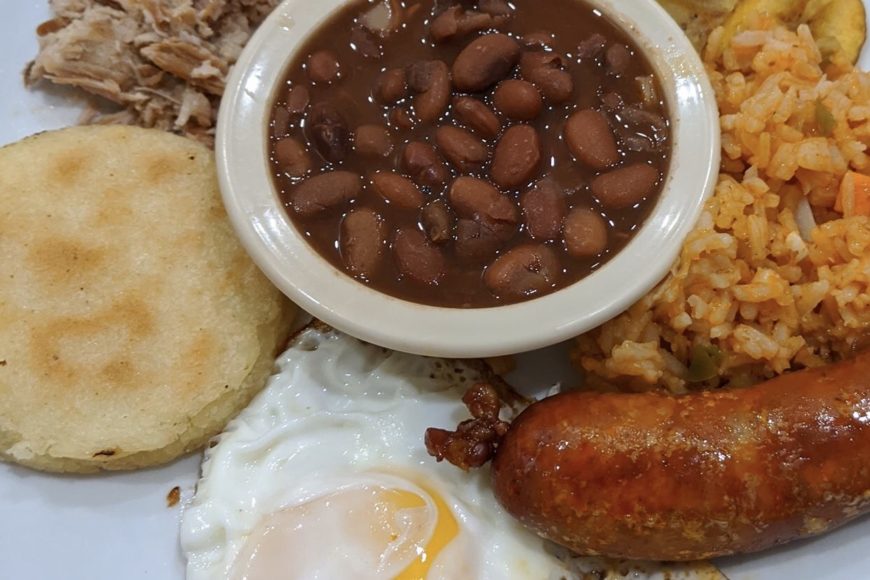 La Fiesta Latina
Address: 565 Somerset St W, Ottawa
Hours: 11am – 8pm (Tue – Sat)' 11am – 6pm (Sun); closed Monday
Website: https://www.lafiestalatina.ca/
It's always exciting when a new restaurant opens near your home, and all the more when it's Latin American – at least in my opinion. La Fiesta Latina opened on the eastern edge of Chinatown in the late fall, and I resisted the temptation for the first while to allow them to settle into a groove. Recently, with a couple months passed, and no idea what to cook for dinner one night, my wife and I made our way up to Somerset to join the fiesta.
This quaint little spot seats less than 30, but the newly-painted white walls and lively décor don't feel cramped. I'm not sure I've ever seen a minimalist Mexican restaurant, and I'm cool with that.
We were seen to quickly and given some water while we perused the menu. I love the feeling of coming to a new-to-me restaurant, reading the menu, and getting excited; La Fiesta Latina was one of those times. Familiar items like tacos, tostadas, quesadillas, and enchiladas were all there, as well as less common, but equally delicious sounding dishes. Pozole soup, a chicharron plate, and platters representing the cuisine of a few different Latin American countries all piqued my interest – and appetite.
As soon as I saw that there were enchiladas in a mole sauce, I knew that my wife would be ordering that (and I was right). I took a little longer to order, being torn between so many interesting dishes, but I eventually chose the Mi Bello Colombia plate. To drink, my wife ordered the Jamaican agua fresca, and I went with the horchata.
While we waited for our mains, we received a small platter of tortilla chips and salsas to snack on. The chips may have been made in house, and if not, were certainly better than what you typically find on supermarket shelves. The three salsas they came with were a three bears situation – the fresh pico de gallo with no spice, a salsa verde with a low level of spice, and a thick salsa roja studded with hot pepper seeds that was best taken in small doses.
Once our mains arrived, our appetites were primed and ready. Enchiladas de mole may not be the prettiest dish in the world, but it packed in a ton of flavour. La Fiesta's rich, thick mole sauce is made from 15 different ingredients, and even with that complexity, the chocolate still manages to make itself known. Chocolate that isn't for dessert? If it was good enough for Aztec kings, it's good enough for me!
My Mi Bello Colombia plate was a hefty serving of carbs and proteins, although the plantains and beans might make it somewhat healthy? Maybe? I'll try not to think about it. The large link of chorizo sausage had a well-balanced texture that wasn't too grainy, nor as heavily processed as a commercial sausage, and just a little of spicy kick to it.
I'm a lover of basically any type of rice, and Mexican rice, with it's tomatoey base, and sprinkling of veg, made for a dish that I would gladly eat on its own. The fried plantains were perfectly cooked – tender but not mushy – and had just the right amount of sweetness.
I appreciate cultures that embraced #PutAnEggOnIt long before that trend – or even the internet – was a thing, and the crispy edges of the fried egg contrasted well against the runny yolk. Speaking of that runny yolk, my arepa made quick work of that, soaking up the golden yellow-orange goodness.
Initially I was disappointed at the sight of pulled pork instead of the hunks of chicharrons that I had been expecting from the menu, but that quickly turned around on my first bite. Tender, moist, and pleasantly herby, it was a great change from the mushy, cloyingly-sweet pulled pork that has become ubiquitous in the past several years.
Last, and probably least, were the beans. Honestly, they tasted and looked the exact same as the canned beans that come with a lone, mysterious hunk of what is supposed to be pork. To be fair though, they were cooked properly, and it's hard to get excited by a side dish of beans, so it wasn't exactly a tragedy.
My horchata was creamy and flavourful, and was welcome counterbalance to the spicier bites, while my wife's hibiscus agua fresca was lightly floral, and dangerously purple. Watch out, spilly talkers!
All the staff we encountered were incredibly nice and were always checking to make sure that everything was going well.
With a menu that's big enough to give you choice, but not so big as to make you wonder about quality, and a kitchen that can pull it off, I'm eagerly looking forward to continuing the party at La Fiesta Latina.